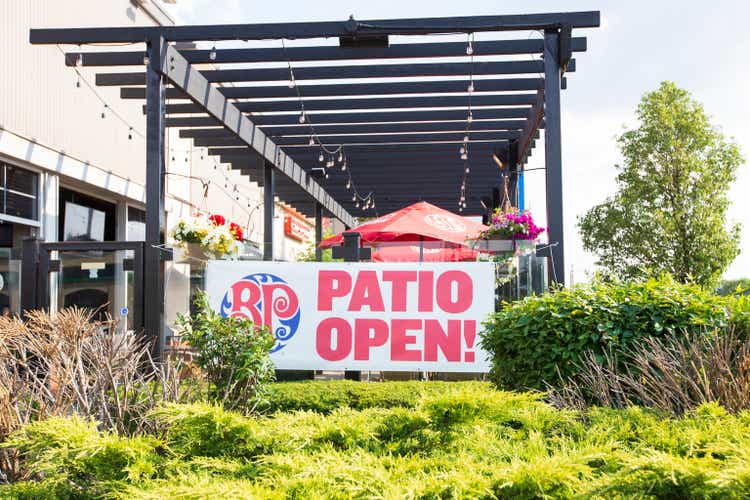 I wrote on The Boston Pizza Royalties Income Fund (OTC:BPZZF) in November 2018. It was one of the few times I have been wildly wrong on an investment thesis, as my price target at the time was $26/share and the share price has come nowhere close to that since. However, I would imagine that no one who had covered the restaurant and hospitality industry at the time could have imagined a pandemic that would force establishments to either partially or fully shut down and reduce system-wide revenue. I'm not sure that I maintain the same price target, however, with the pandemic behind us, I think this royalty fund makes for a very safe 7% yield for income investors.
BPF is the ticker that the fund trades on under the TSX, and owns the rights to the Boston Pizza concept in Canada. Boston Pizza International (BPI) licences the rights to the Boston Pizza concept from BPF in exchange for royalty and distribution income that is based on a fixed percentage of sales included in the royalty pool at 5.5% less BPI's 12.9% interest in the fund.
One of the most enticing aspects of BPF from an inflation standpoint is that royalty and distribution income are not directly impacted by the underlying profitability of BPI, as the income is entirely based on the licensing fees paid by the franchisees and incurs very low administrative expenses. As inflation reaches its highest levels in decades, we should expect franchises to charge higher prices, which will mean more off the top for the fund.
Investment Thesis
For those who bought around the time I published my first article, this stock has obviously been a rough ride.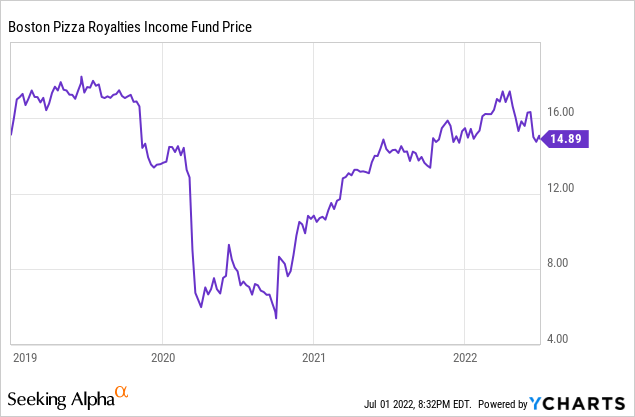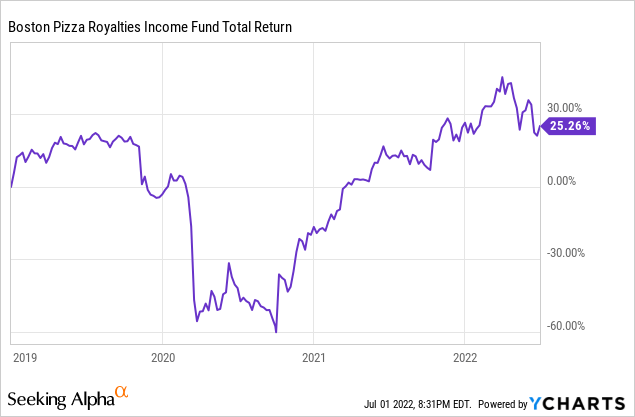 On a number of metrics, things have been on the decline since March 2020 as Same-Store-Sales growth took a precipitous drop in 2021 which led to the temporary suspension of the $1.02/share dividend in June 2020 and when it resumed in October 2020 it was only at $0.065/share. As we can see, system-wide sales improved in 2021, but still came in at 25-30% below the sales seen in 2016-2019. As of today, the dividend sits at $0.085/share. The royalty pool was negatively impacted due to the pandemic, which is the number of locations in any given year that form the royalty pool for the subsequent year. For example, the 2020 financial results were based on 395 restaurants in the pool in 2019, 2022 will have 381 as the corresponding number (the number of locations in the pool at 2021 FYE). No new restaurants have been opened since March 2020.
The 2022 Q1 report showed some light at the end of the tunnel for the Boston Pizza franchise, with quarterly system-wide gross sales being up 39% from their level in Q1 2021. In fact, the TTM sales have been noticeably higher than the prior 12 months. Despite 14 store closures through the pandemic, 2022 Q1 franchise sales came in at only 14% below the levels seen in Q1 2019.
BPF is among the cheapest in its peer group when we look at its price to sales ratio and dividend yield. On a forward basis, the yield is at 7% which is among the highest it's been.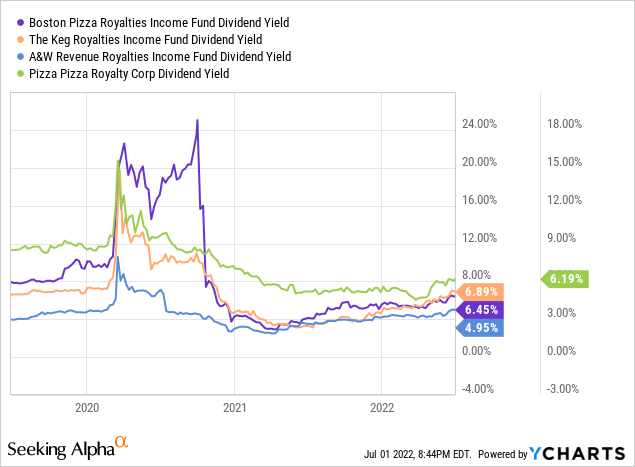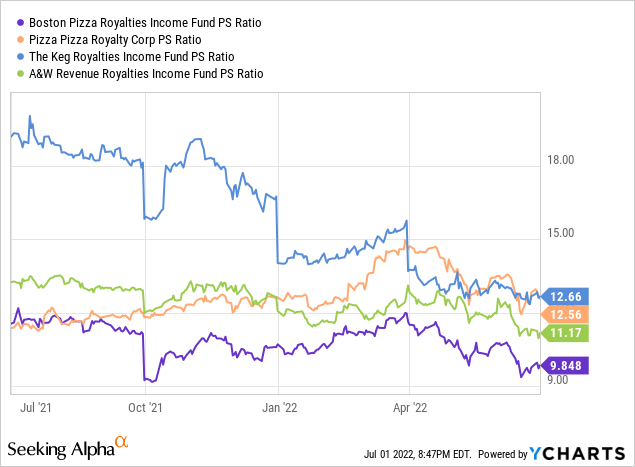 The very thing that keeps making investors skittish on this stock is the persistently high payout ratio, which is often over 100% as management is constantly a little ambitious here. These ambitious goals have relied on a combination of future increases in locations in the royalty pool and sales per restaurant to fund this deficit.
I foresee the payout ratio falling below 100% in fiscal 2022 for two reasons. One, because of existing stores being able to operate without restrictions once again, which should allow them to realize sales closer to those realized in 2019.
Two, as tough economic conditions in 2020 would have forced BPF offside on their covenants associated with their revolving credit facility, BPF was forced to renegotiate the terms of their credit agreements.
After the amendments were completed, the debt had a new maturity date of December 31, 2022, along with the following changes:
Availability would increase by $6.7 million.
Conversion of debt from revolving operating facilities to non-revolving term loans.
Requirement to make pre-set quarterly principal payments for $61.7 million on the loan. The payments ranging from $0.7 million to $1 million for the first five quarters commencing Q4-2020. Thereafter, $0.5 million every quarter for the balance term of the loan.
Reduction of net debt to EBITDA covenant to 2.25X, while allowing for it to be 3.25X to 4.25X at various time points.
Requirement that the fund not resume distributions to unitholders before October 1, 2020.
BPF and BPI announced as of June 28, 2022 that they had entered into a second supplemental credit agreement to amend and extend the credit facility to July 1st, 2026. BPF also entered into an agreement with its operating bank to amend and extend the credit facility to July 1st, 2022. The terms and conditions are similar to the agreement in place prior to COVID.
There are many amendments on both facilities, both reducing the available capacity but allowing the fund to use more leverage. The most important amendments are highlighted below. BPF will only have to repay $0.5MM per quarter to BPI instead of $1MM and will repay $0.3MM per quarter less on its bank facilities.
We make the following assumptions for our projected run rate distributable cash flow for BPF for 2022:
We note that gross sales have been on a steady decline the last two fiscal years, but given that restaurants can now operate country wide with little to no restrictions and with increases in prices to be expected as a result of inflation, annual gross sales per store should be at least $2.35MM.
No net increase in locations added to the royalty pool.
78% NI margin after operating, royalty, and distribution expenses are paid. This is in line with the historical average.
Interest on LTD remains at $3.7MM, which was the interest paid in 2021.
As a result of the decreases in debt repayment associated with the credit facilities, same-store sales do not have to rise by much for BPF to easily cover the monthly distribution at $0.085/share. If more locations are added to the royalty pool, which should be expected given that opening a Boston Pizza franchise is not the worst business idea, even if the economy is headed towards a recession as many economists are projecting. BPI is considered "fast casual" which bridges the gap between a quick service restaurant like McDonald's (MCD) or Wendy's (WEN) and full service restaurants like The Keg (OTC:KRIUF) or Applebee's. This is a more recession-proof business model than full service model.
| | |
| --- | --- |
| Franchise Sales Per Restaurant | $2.35 |
| Restaurants | 381 |
| Franchise Sales | $895,350,000.00 |
| | |
| Royalty | 5.30% |
| Royalty/Distribution Income | $47,453,550.00 |
| | |
| NI Margin | 78% |
| Net Income | $37,013,769.00 |
| | |
| BPI Class B Unit Entitlement | $ – |
| Interest on LTD | $(3,692,000.00) |
| Principal Repayments on LTD | $(6,279,000.00) |
| Distributable Cash Flow | $27,042,769.00 |
| | |
| Distributions | $21,951,892.26 |
| | |
| Units | 21,521,463 |
| Price/Share | $15.00 |
| | |
| P/E | 8.72 |
| P/DCF | 11.94 |
Conclusion
BPF is very cheap by all counts regardless of whether you look at the dividend yield, P/S or P/E ratio. I would expect as the payout ratio falls below 100%, the income investor community will take notice and will allow BPF to trade at 11x sales. In the meantime, fill your pockets with the fairly safe 7% yield. In the long run, I do think double-digit returns are likely, as the only risk is if the pandemic induced shutdowns are not completely behind us. However, that is a risk to all its peers as well to varying degrees.