Co-produced with PendragonY
As income investors, our aim is to generate a high level of incoming cash flows paid by our investments. We are on a continuous hunt for companies with well-supported dividend coverage. The opportunity becomes greater when a high yielding stock becomes out-of-favor and trades at opportunistic prices. This allows us to generate even a higher income.
In general, many blue-chip companies have very low yields because the market recognizes their strength and prices the shares accordingly. However, COVID-19 has allowed us to do some bargain hunting. AT&T (T) is a Dividend Aristocrat that's yielding 7.2%.
Why we continue to like AT&T
We last wrote about AT&T back in early July. One might ask why we continue to recommend it. Well, most of the reasons for which we liked it in July still remain.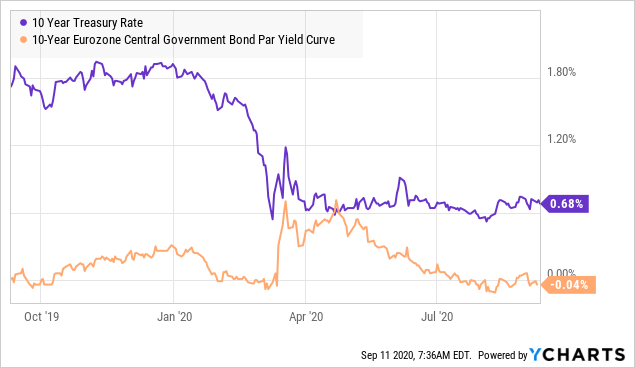 For investors looking for safe income, the historic place to look for very safe income was in government debt. But as shown above, government debt just isn't paying very well these days. Eurozone debt struggles to pay anything at all, while US government debt stubbornly remains below 1%. While the treasury rate is a few basis points higher than last month, the yield remains historically low.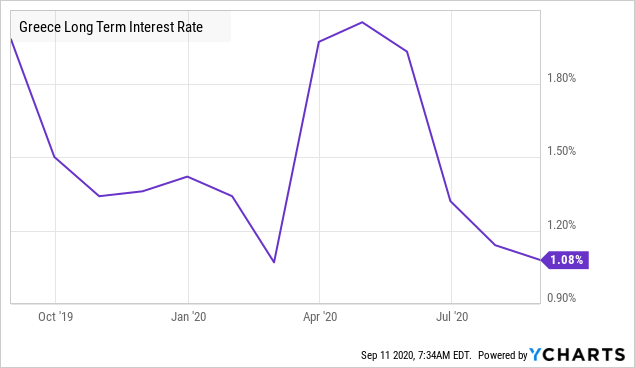 Even Greece debt, which is considered higher risk, is not paying much. While it is much safer than it was 10 years ago, over the last year it has been below 2% and often below 1.5%.
The next place income investors turn to for safe income is AAA-rated Corporate bonds.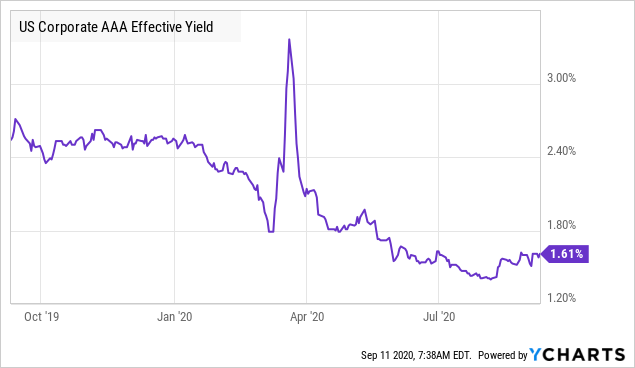 And as shown above, they will have no luck there either. The 1.6% yield is not nearly enough to provide a good source of income for any but those investors with the biggest portfolios.
And this is why we have turned to Dividend Aristocrats and to AT&T (T) in particular. Over the last year, the average yield on T has been 6.1%, well above what corporate bonds are paying.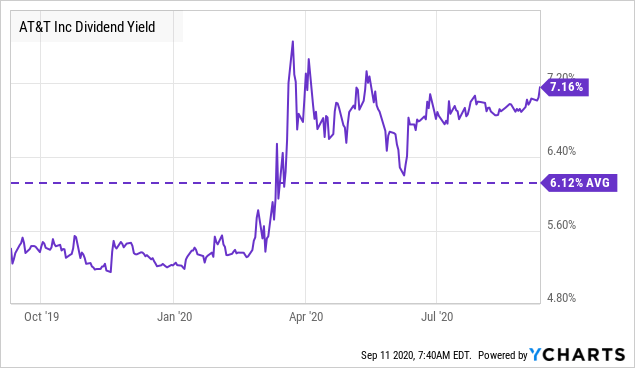 Even better, since late March, the yield on T has climbed well above the average for the last year, and now stands above 7%. For income investors, this is clearly a good place to get the income they need for retirement (or even to grow their portfolio before retirement).
Dividend Safety
Next, we want to look at how safe the dividend is. Since we have moved down the capital stack from bonds, we want to make sure that AT&T is generating the cash to pay our dividends. One way to determine that is to look at CFFO (Cash Flow from Operations) and see how much of that cash is left after the dividends have been paid.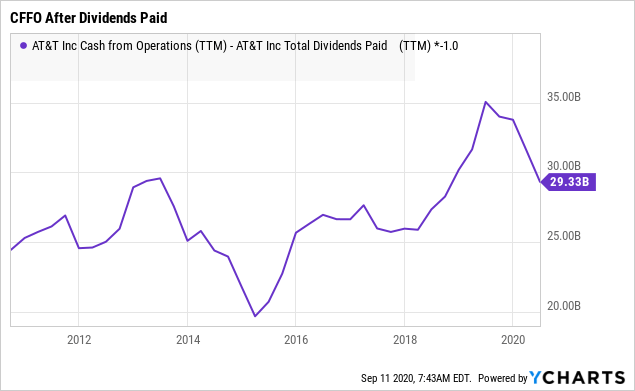 While the size of the dividend has increased over the years, as of the end of the last quarter, AT&T had over $29 billion in CFFO generated over the last 12 months remaining after paying the dividends. That left them with plenty of cash to invest in new assets and technology and to pay down the debt, particularly the debt taken on to buy Time Warner.
Q2 Earnings Report
AT&T released its Q2 2020 earnings report on July 23rd. The report was somewhat mixed with earnings coming in higher than expected while revenues were a bit below expectations. The biggest negative was the 23% decline in revenue from Warner Media.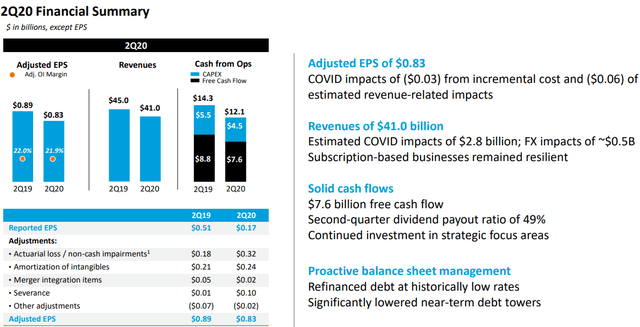 Source: Q2 Earnings Presentation
While the slide above reiterates the numbers for revenue and "Earnings Per Share" ("EPS"), the important part is the last 3 lines on the right. Debt is being refinanced at historically low rates and being reduced.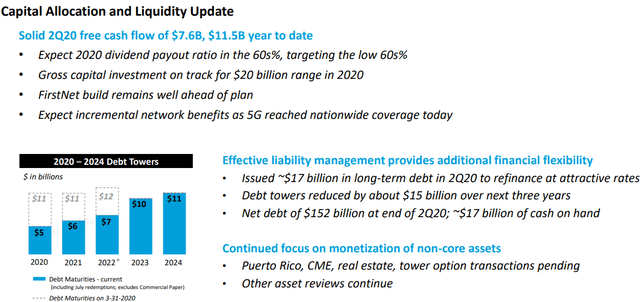 Source Q2 Earnings Presentation
The slide above shows debt maturing in 2020, 2021, and 2022 has been reduced by ~$6 billion, ~$5 billion, and ~$5 billion which was replaced by long term debt at very good rates. As of the end of Q2, long term debt had been reduced by just over $14 billion, and they continue with the early re-payments this quarter.
The Warner Bros.' game unit is still being considered for sale, to help pay down debt. This is part of a strategy of selling off non-core assets to speed debt reduction. Microsoft is now reportedly interested in buying the division.
Q2 was likely the quarter that will have been hardest hit by COVID-19. While there will still be impacts on revenues, particularly with sports having multiple issues with getting back to being played, revenues should continue to grow from here.
Reports have also been making the news that AT&T is looking to sell DirecTV. This is not the first time that there have been reports that DirecTV might be for sale. Reports mention various private equity firms but one potential bidder, Dish Networks has been ruled out. The price being talked about is $20 billion, while that is substantial and could reduce debt by a lot, it is well below the $49 billion purchase price. While some have been disappointed with the subscriber losses, management has always said that this was expected, and their main purpose in buying DirecTV was to get a database of customer information to use in marketing and growth for their other services. Whether or not a deal to sell DirecTV will be reached this time remains to be seen.
What about the share price?
Recently, the share price of T closed at $28.91 which was $1.39 lower than when our last article was published on Seeking Alpha in early July. While this is related to normal price fluctuations, we like T for the high income it generates from dividends. So the decline is an opportunity for long term investors who are net buyers of shares.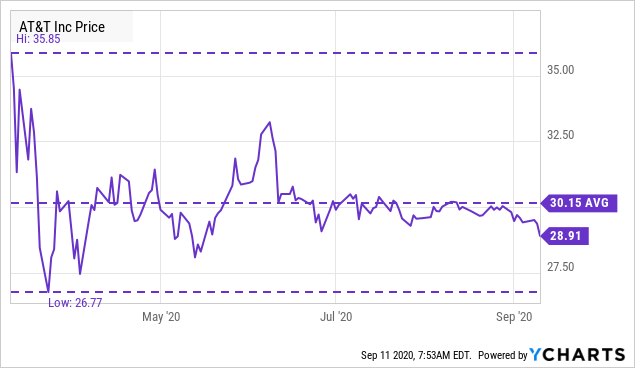 While the recent price is a good value, it is also $1.21 below the average price of the last 6 months, $2.14 above the low for that timeframe and $6.94 below the maximum price. We continue to think the price range over the last 3 months is a good value. Picking up shares under $30 is a very good deal.
Final Thoughts
AT&T has paid a reliable and slowly increasing dividend for many years, and has the cash flow and increasing revenues to continue this trend for many more years. While no dividend or dividend increase is entirely safe because of the COVID-19 pandemic, the dividend from T is likely one of the safest while also being very generous. Its current price, as well as any price it has hit in the last 3 months, is a very good deal. T is one of the best stocks to own in your high-dividend portfolio. It is one of few stocks that investors should buy and hold for the very long run.
Thanks for reading! If you liked this article, please scroll up and click "Follow" next to my name to receive our future updates.
Which Dividend Stocks To Buy?

High Dividend Opportunities is the #1 service on Seeking Alpha for the 5th year in a row. We are the most exciting community of income investors and retirees with over 4400 members. Our Immediate Income Method generates strong returns, regardless of market volatility, making retirement investing less stressful – simple and straightforward.
Invest with the Best! Join us to get instant-access to our model portfolio targeting 9-10% yield, our preferred stock portfolio, bond portfolio, and income tracking tools. Don't miss out on the Power of Dividends! Start your free two-week trial today!

Disclosure: I am/we are long T. I wrote this article myself, and it expresses my own opinions. I am not receiving compensation for it (other than from Seeking Alpha). I have no business relationship with any company whose stock is mentioned in this article.
Additional disclosure: Treading Softly, Beyond Saving, Trapping Value, PendragonY, Preferred Stock Trader, and Long Player all are supporting contributors for High Dividend Opportunities.