It's been a busy year thus far for M&A in the gold mining sector (GDX), and while we saw some fire sales, Argonaut Gold (OTCPK:ARNGF) takes the crown for the most accretive deal year to date. The company scooped up industry laggard Alio Gold (ALO) for just $48 million and managed to add two projects in the transaction, Ana Paula and Florida Canyon. Just last week, the company announced it would be selling off the former asset, and while the sale price looks paltry, it's a smart deal if we factor in the acquisition price for Alio. Based on the stronger balance sheet following the deal and shift to a Tier-1 jurisdiction focus, Argonaut may finally start to get more respect from the market.
(Source: NorthernMiner.com)
Last week, we got the news that Argonaut would be divesting its Ana Paula Project, a high-grade, open-pit project in the Guerrero Gold Belt in Mexico [GGB]. Argonaut is selling the project for $30 million upfront, a 1% net smelter return [NSR], and C$10 million upon construction, which translates to a purchase price of US$30 million worst case, and over US$50 million as an upside case if we include royalty revenue and the contingent payment. While this looks far too low using the conservative case of $30 million given that Ana Paula is home to ~1.5 million ounces at an average grade of 2.15 grams per tonne gold, it's an incredible deal considering that this reduces the Florida Canyon Mine purchase price to a mere $18 million. Before digging into the numbers, let's take a closer look at Ana Paula below:

(Source: Argonaut Gold Company Presentation)
The Ana Paula Project has had a long history of being passed around, as Newstrike Capital acquired it from a subsidiary of Goldcorp (GG) in 2011, and it was then taken over by Alio in 2015, before being acquired with Alio by Argonaut in Q1. While Ana Paula is a low-cost and relatively simple open-pit project with the potential to produce over 100,000 ounces of gold per year, it's not in the world's greatest jurisdiction. While the Guerrero state is well-known for being well-endowed with gold resources, we've seen some disruptions and volatility over the past decade.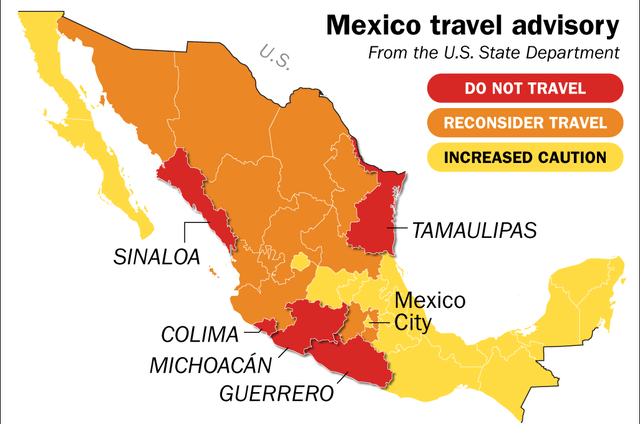 (Source: January 2018, Time.com, Lon Tweeten)
For starters, Torex Gold (OTCPK:TORXF) saw an illegal blockade by unionized workers at the mine in November 2017, and three strikers were subsequently killed in early 2018, which was believed to be related to the work stoppage. Before this tragedy, three of Goldcorp's (GG) Los Filos workers were found murdered in a mass grave in 2015, with another kidnapped released but with minor injuries. Goldcorp sold its Los Filos Mine to Equinox Gold (OTC:EQX) in 2017, and recently, we've got news of a stoppage on September 3rd. This is related to members of the Ejido of Carizalillo alleging that 70% of the terms of its six-year contract at Los Filos with Equinox are not being fulfilled. While it's likely that the two parties will come to a resolution and Los Filos will be back on-line by November, this is the fourth incident in Guerrero in six years, if we include the ~$2.5 million in metals concentrate stolen last year.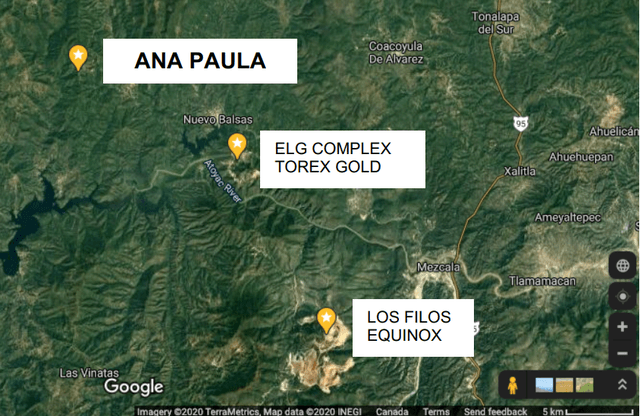 (Source: Argonaut Gold Company Presentation)
This is not to suggest that Guerrero is uninvestable, but the jurisdiction has gone from Tier-2 to Tier-3 since Alio Gold was acquired in 2015. However, while it makes sense for miners already with mines to continue operating as the reward outweighs the risk, it is a riskier move to build a new mine here, especially at the cost of ~$137 million, which was the estimated capex for Ana Paula. Therefore, I am not surprised Argonaut Gold let go of the project, as a focus on safer jurisdictions, even if the projects are less robust, makes sense for the company. Ultimately, a new mine in Guerrero may have added production for Argonaut. Still, it would have come at the cost of a jurisdiction downgrade, with Torex Gold already getting minimal respect from the market for its 350,000-ounce per year operation in Guerrero. Before getting too off track, let's take a look at the numbers: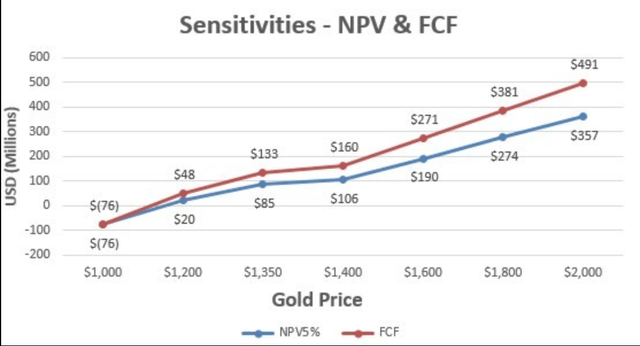 (Source: Argonaut Gold News Release)
As noted earlier, Argonaut Gold scooped up Alio Gold for $48 million, and it's just going to receive $30 million for the sale of Alio Gold's non-producing asset, Ana Paula. This has dropped the purchase price for the producing Florida Canyon Mine to $18 million, with the asset on track to produce 77,000 ounces of gold per year. This translates to $2.3 million per 10,000 ounces of annual gold production. Based on Argonaut Gold's estimated after-tax NPV (5%) of $232 million at $1,700/oz gold and a leftover purchase price of $18 million with the Ana Paula divestment, the company just picked up a producing asset for less than 0.10x P/NAV, with producing assets typically being purchased for 0.80x P/NAV or higher. In summary, the Alio Gold purchase was brilliant, and it looks even better after the cash deal for Ana Paula. It's worth noting that in the upside case that Ana Paula goes into production, Argonaut will have picked up Florida Canyon for free.
So, what does the deal mean for Argonaut?
Ultimately, I see the sale of Ana Paula as a positive for Argonaut, as the company will be able to make a push towards becoming a predominantly Tier-1 jurisdiction gold producer. This is because the company's new focus is the Magino Project in Ontario, a project capable of producing over 115,000 ounces of gold per year across a 15-year mine life. If we assume that Magino heads into production by Q1 2024, and we add in 77,000 ounces of gold production per year from Florida Canyon in the US, Argonaut will have more than 190,000 ounces of gold production per year coming from Canada and the US. Therefore, this will outweigh its production from Mexico, estimated to be roughly 120,000 gold-equivalent ounces after FY2022. This estimate is based on the assumption that the mine life is not extended at El Castillo long term and Mexican operations after FY2023 based on La Colorado and San Agustin. I have made this assumption as Argonaut itself has noted that the potential to extend the mine life past FY2022 at El Castillo is low.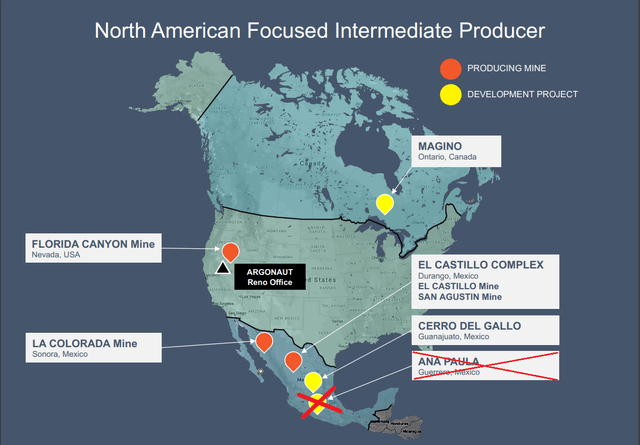 (Source: Company Presentation, Author's Drawing)
Argonaut is looking at funding the Magino Project without significant dilution of the company's shares. The Magino Project has one of the highest upfront costs in the sector for a small-scale gold operation at roughly ~$300 million, but the current shortfall is closer to ~$110 million once payment is made for Ana Paula. This is more than manageable through debt or a small equity raise, and it could also be managed through cash flow if the company is willing to wait 15 months to generate more cash from its operations. This is based on the company's estimate of $80 million in free cash flow generation per year based on current assets at a $1,900/oz gold (GLD) price.

(Source: Author's Chart)
While I generally would condemn giving away a robust asset like Ana Paula, especially in a rising gold price environment, I believe this was a brilliant move by Argonaut Gold. Not only should this ultimately lead to a re-rating long term, as the company will be considered a Tier-1 gold producer with more than 60% of production coming from Nevada (Florida Canyon) and Ontario (Magino), but it also beefs up the balance sheet to finance the high-cost Magino Mine and avoid further dilution. This does not change my view that there are better producers out there in the sector than Argonaut Gold, but I like this recent move by the company a lot, as it's a significant step in the right direction to gain some respect from the market. Therefore, I am changing my thesis from Speculative Buy below C$1.95 to Speculative Buy below C$2.45.
Disclosure: I am/we are long GLD. I wrote this article myself, and it expresses my own opinions. I am not receiving compensation for it (other than from Seeking Alpha). I have no business relationship with any company whose stock is mentioned in this article.
Additional disclosure: Disclaimer: Taylor Dart is not a Registered Investment Advisor or Financial Planner. This writing is for informational purposes only. It does not constitute an offer to sell, a solicitation to buy, or a recommendation regarding any securities transaction. The information contained in this writing should not be construed as financial or investment advice on any subject matter. Taylor Dart expressly disclaims all liability in respect to actions taken based on any or all of the information on this writing.