Midstream struggled again this week in a risk-off week for stocks and commodity prices. Utilities and infrastructure outperformed, starting to show more consistent defensive characteristics since the market rolled over a few weeks ago.
MLPs dropped 4%+ in back-to-back weeks for the first time since March. Midstream was only down three of four days, an improvement from all five days last week. The MLP Index total return since June 8 is -30%, and the AMNA total return is -19% from that date. It's been a rough three months, but MLPs' return is still +66% from the absolute bottom in March. The volatility and short cycle swings are the new normal for a midstream sector that continues to trade with sentiment for energy broadly.
Midstream management teams continue to re-assess the fundamental environment and cut back on plans for new infrastructure. This week's EPD pipeline cancelation is probably the last big project that could conceivably be canceled, but further capex reductions are still possible dependent on producer activity from here. Less capex, lower dividends position these cash-flowing businesses to reduce leverage and eventually return cash to unitholders.
Back to Formula
The sector is not likely to get external help in the process. In fact, the environment for energy and midstream is likely to continue to be challenging. One area of challenge is the regulatory environment, like in Colorado where setback restrictions resurfaced as a headwind.
Another area is enthusiasm for renewable sources of energy, the latest of which is the recent surge in discussion green Hydrogen as a conceptual idea. While the market chases the hot dot, midstream needs to focus on capital discipline and turning themselves back into cash producing machines. Consistency and cash flow will eventually be too hard to ignore.
It continues to be very frustrating to own midstream stocks. The magic formula of consistent distributions worked in the early years. Then for a time, ongoing growth in distributable cash flow from acquisitions, then growth projects fueled by seemingly infinite access to equity capital. The new formula that attracts investors back to the space could be free cash flow, consolidation or even just rebuilding confidence in very high yields.
If You Can't Beat Them…
Alternatively, midstream companies could attempt a hard pivot towards the often highly competitive renewable business. Like the old saying goes, "If you can't beat 'em, join 'em."
Midstream companies no longer need to worry about maintaining their MLP status. They are free to try to develop a long-term strategy that diverges from traditional midstream. Saudi Arabia has been attempting to pivot away from oil & gas for years, plowing cash from oil production into other forms of energy production. BP (NYSE:BP) has been making a similar pivot for years, and this week bought into U.S. offshore projects being developed by Equinor (NYSE:EQNR) (formerly known as Statoil).
If midstream can start flowing cash, most investors would prefer midstream companies return that capital, but it probably makes sense for some midstream company to take a chance on some other business line that could eventually turn into a viable business that overtakes its current business. It worked for Kodak…for a few weeks.
Winners & Losers
MLPs
The surprise setback news out of Colorado hit hard the stocks exposed to that region, including DCP, NBLX, WES and NGL. All of the names in the top 5 are out of the mainstream non-index stocks, led by GLP.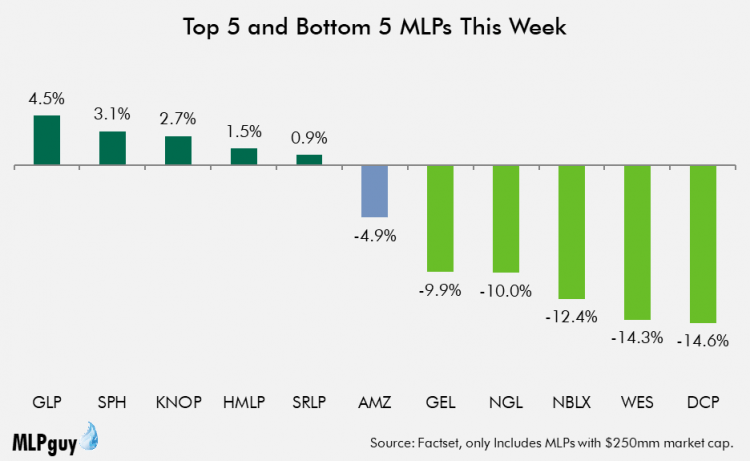 SPH and HMLP repeated in the top 5 week over week. NGL repeated in the bottom 5. On the YTD leaderboard, EVA reclaimed the top spot from DKL. CQP rejoined the top 5. On the downside, GEL's total return YTD is -75%+, which is a stunning number.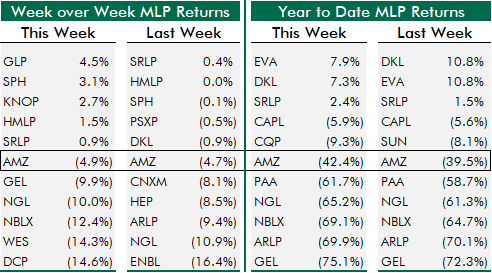 Midstream Corporations
WMB held up in a sharply negative week for the average midstream corporation, even with its exposure to Colorado. Permian-exposed names like TRGP, PAGP and RTLR were underperformers.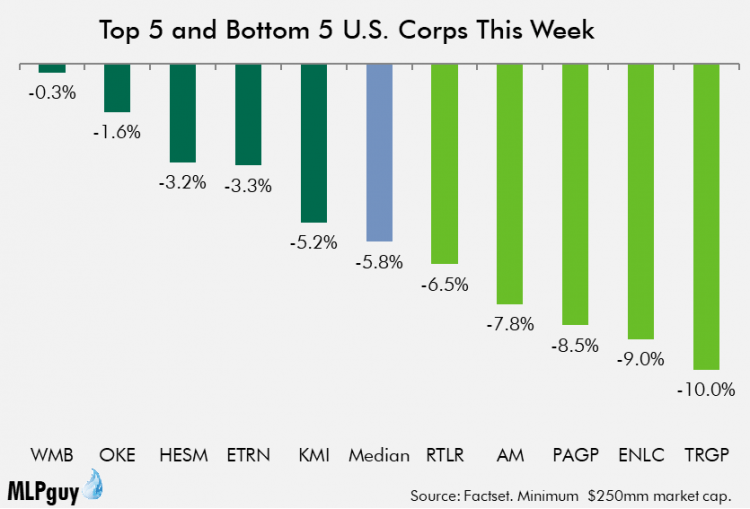 WMB was joined by HESM and ETRN as repeat names in the top 5. ENLC, TRGP, AM, RTLR repeated as underperformers. WMB's strong relative performance helped it retake the top spot overall YTD at -8.5%. There was some movement at the bottom of the leaderboard where two dominant Permian players jockeyed for position, with TRGP dropping to worst in the group, while PAGP climbed a spot to 3rd worst.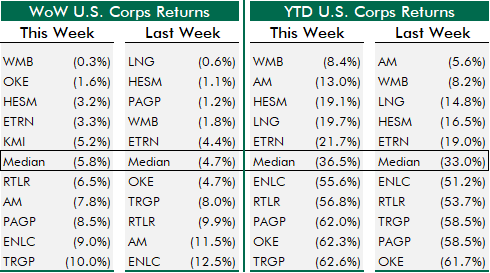 Canadian Midstream
Canada fared much better than other midstream buckets this week, outside of a few smaller outliers (Keyera (OTCPK:KEYUF) and Inter Pipeline (OTCPK:IPPLF)). TRP and ENB held up best, which shouldn't be a surprise given their scale and stability.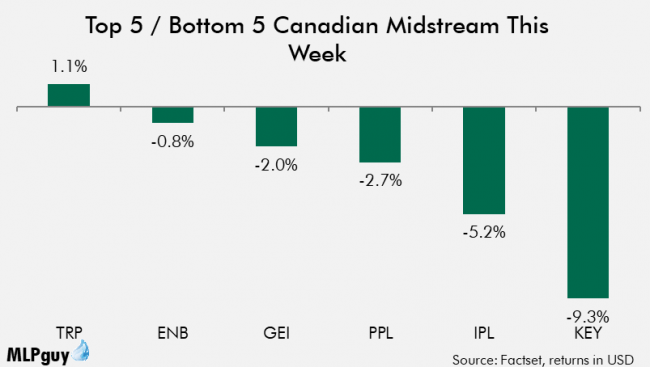 IPL gave up relative gains from last week, Keyera must not have impressed at its conference meetings. TRP and ENB were unusually near the bottom in a down week last week, but they bounced back. YTD, half of the group is down less than 20% and half is down 30%+.

News of the (Midstream) World
EPD's pipeline cancelation was big, marginally positive news. The Colorado regulatory news was smaller, marginally negative news. Midstream access to debt capital remains intact, which is also slightly positive.
Capital Markets
M&A/Growth Projects
Enterprise Products announced amended customer agreements to switch capacity commitments to other pipelines EPD operates, enabling it to cancel its 450k bbls/d Midland to Echo 4 Pipeline (press release)

The Pennsylvania Department of Environmental Protection orders Energy Transfer (NYSE:ET) to re-route the Mariner East 2 Pipeline away from Marsh Creek Lake (PA DEP)

This comes after an August spill of over 8,000 gallons of drilling fluid

No comment yet from ET on what this means for timing of the project
Other
Colorado regulatory news: Four of the five Colorado Oil & Gas Conservation Commission's members voiced support for an extended drilling set back (Colorado Sun)

Alerian announced September 2020 Index review (press release), with the following changes:
Editor's Note: The summary bullets for this article were chosen by Seeking Alpha editors.