A few weeks ago, I wrote an article about Ecolab (ECL), in which I noted that the company appeared to be overvalued. In this article, I'm focused on ABM Industries (ABM), which, like Ecolab, is also set to benefit from increased cleaning measures due to COVID-19. The difference, however, appears to be that ABM Industries is at a relatively cheaper valuation. In this article, I evaluate ABM and whether if the stock makes an attractive long-term investment; so let's get started.
A Look Into ABM Industries
ABM Industries is a leading global company that provides a variety of services to nearly every industry. Its services range from providing wheelchair assistance, to food and nutrition, to mission-critical solutions for hospitals. It employs more than 140K people, and operates in the U.S. and more than 20 international locations. The company first started in 1909 as a modest window cleaning business. Today, it generates over $6.4 billion in annual revenues, operates out of 350+ locations globally, and has over 20K clients.
What I like about ABM is that it is deemed an "essential" service, which means that its business operations are unaffected by government restrictions during the pandemic. As seen below, the company provides fundamental services that help businesses and institutions to run smoothly.
(Source: Q2 Investor Presentation)
Like for many industries, COVID-19 has been a risk factor, and presented the company with a challenging operating environment. This is evidenced by the 6% revenue decline that it saw in its latest quarter. This was notably caused by a dramatic slowdown in aviation and a shutdown of educational institutions. However, despite this drop, I see the business as being very resilient, as it has a variable cost structure and was able to shift to higher-margin services, which led to a 7.4% YoY increase in its adjusted EBITDA to $91 million in the latest quarter.
Looking forward, I see the negatives as being temporary and set for a rebound. This is supported by an article from September 4, which highlighted the recent bounceback in air travel (emphasis added by author):
"The Transportation Security Administration reported its busiest day on Thursday since the demand for air travel plummeted in mid-March as travelers take advantage of the long holiday weekend that traditionally marks the end of the summer travel season.

TSA screened 877,698 travelers on Thursday, the highest number since March 17, and the agency expects Friday will be even busier with the number of travelers likely topping 900,000."
This bodes well for ABM's airport services segment. In addition, I expect to see sequential upticks in revenue over the next two quarters, as ABM generated an impressive $500 million in new bookings during the first half of the year. For reference, revenue recognition in the services sector trails that of bookings. The bookings become recognized as revenue, when the services are rendered. Management noted the following about the strong bookings performance in the last conference call (emphasis added by author):
"We also achieved new sales bookings of more than $500 million year-to-date, an incredibly positive milestone for this time of the year, even by pre COVID standards. And I would ask you to pause on this and recognize that we contracted for over $0.5 billion in new business for the first half of this year in this environment."
Going forward, I see ABM's business picking up steam due to enhanced cleaning methods. This is supported by the more than 20% increase in revenue and operating profits for the Business & Industry segment in the last quarter. In addition, I also see the company's HVAC solutions business picking up steam in the second half of this fiscal year, as both businesses and government institutions look to ABM to help them with cost savings initiatives. This is supported by management's following assertion in the last conference call (emphasis added by author):
"Education clients will be looking at their budgets and seeking ways to ease constraints, especially through a slowdown or a recession. Across the country, we have seen school budget cuts, ranging from 7% to 25%. And this plays right into the compelling cost savings offering that our technical solutions business has been built on. Retrofit projects are capital expenses and energy savings of 30-plus-percent translate to operating budget savings and allow schools to retain teachers and fund after-school programs."
As such, I have a favorable view on ABM's second-half 2020 prospects as its down sectors recover with a reopening of the economy and its business lines benefit from the enhanced cleaning needs and energy savings initiatives of its clients.
Turning to estimates, analysts seem to share the view that the company's earnings are set to grow, based on the aforementioned catalysts. As seen below, the earnings estimate for next year shows a 16% increase from this year's earnings estimate.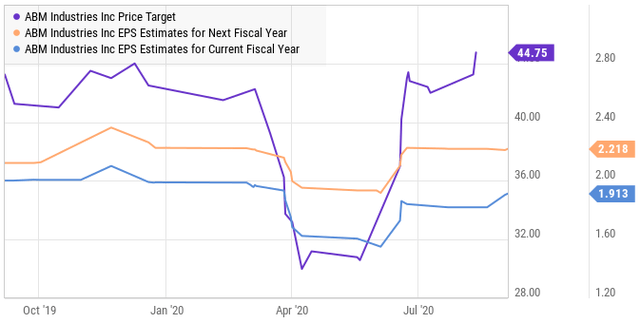 (Source: YCharts)
Based on today's share price of $38.33 and next year's estimated EPS of $2.22, I arrive at a forward P/E of 17.3, which I find attractive for a well-established company with growing tailwinds. In addition, the average analyst price target is $44.75 per share, which sits comfortably above where the shares are trading at now.
Investor Takeaway
ABM Industries is a leading global company that provides a variety of services to nearly every industry. While COVID-19 has presented the company with some near-term headwinds, I see them as being temporary, given that the economy is gradually reopening. Going forward, I see strong tailwinds, as ABM's services are increasingly needed for enhanced cleaning and cost savings initiatives.
Lastly, I arrived at a forward P/E of 17.3, which I find reasonably attractive for a well-established company such as ABM with the aforementioned growth tailwinds ahead. As such, I have a favorable view of the stock and see further upside for the stock price.
Disclosure: I/we have no positions in any stocks mentioned, and no plans to initiate any positions within the next 72 hours. I wrote this article myself, and it expresses my own opinions. I am not receiving compensation for it (other than from Seeking Alpha). I have no business relationship with any company whose stock is mentioned in this article.