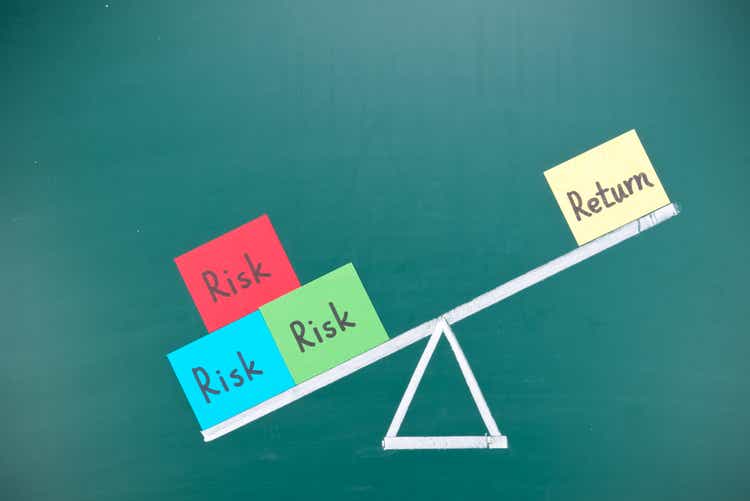 Co-produced by Austin Rogers for High Yield Landlord
Why Sin Stocks Are Tempting
It turns out that sin is a lucrative business. That is, sin stocks have historically tended to generously reward their shareholders over long periods on a total return basis.
According to a paper by Harrison Hong and Marcin Kacperczyk published in The Journal of Financial Economics in 2009 (as reported by Forbes):
Investors have gained 2.5% more per year investing in sin stocks, like Harrah's Entertainment and Diageo (DEO) (responsible for spirits ranging from Guinness to Smirnoff), than in companies of comparable size in other sectors.
The study looked at companies involved in the alcohol, tobacco, and gambling businesses for the period from 1926 to 2006. Over such a long period (80 years), 2.5% per year of outperformance adds up!
A 2017 study by David Blitz and frank Fabozzi put out by the Journal of Portfolio Management found that sin stocks outperform because they tend to enjoy higher profit margins and because their total asset growth tends to be limited, thus preventing dilutive expansion of the asset base.
So, we might summarily state the reasons that sin stocks tend to produce strong total returns for their shareholders as follows:
Stock valuations tend to be low and dividend yields high as large swathes of investors avoid them entirely. This is especially true in an age when ESG funds are becoming increasingly popular.
Limited opportunities to make large investments reduce the chance of mismanagement and increase free cash flow.
Lower stock valuations make share buybacks more accretive to per-share earnings.
Heavy government regulation of these industries, while burdensome, also creates high barriers to entry for new competitors, thereby benefiting established players.
Increased scrutiny of sin companies tends to make accounting practices cleaner and more straightforward than the average company.
High dividend yields increase total returns, especially if reinvested over time.
Let's look at a few notable examples.
Tobacco companies' products have long been known to cause harmful health effects, and institutional and retail investors alike have increasingly avoided their stocks because of it. And yet, over the past 20 years, major tobacco companies like Altria (MO) and British American Tobacco (BTI) have significantly outperformed the market on a total return basis.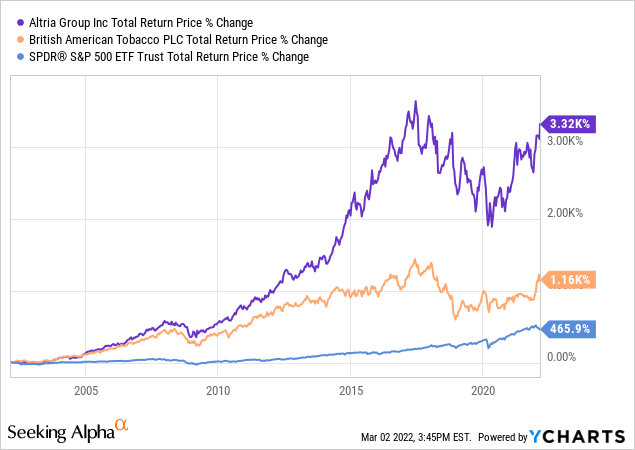 Casinos are another example. Though before its bankruptcy, Caesars Entertainment (CZR) was badly mismanaged and overleveraged by its private equity controlling shareholders, the nation's largest casino operator's stock has crushed the market since emerging from bankruptcy.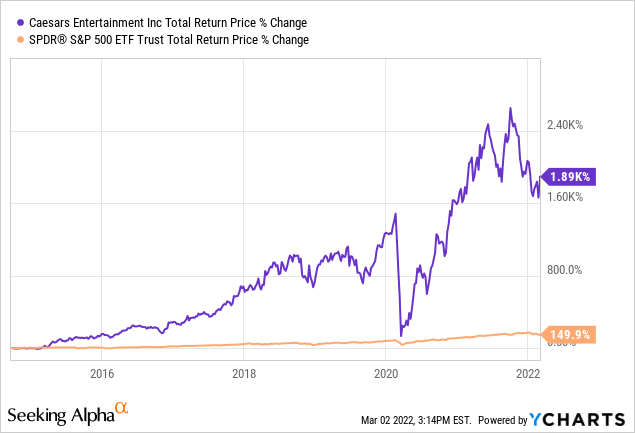 Finally, take alcohol companies like Diageo and Brown-Forman Corporation (BF.A), whose products feature in liquor stores and bars all over the world. Hard alcohol is highly regulated as well. And yet, these liquor producers have outperformed the market fairly comfortably.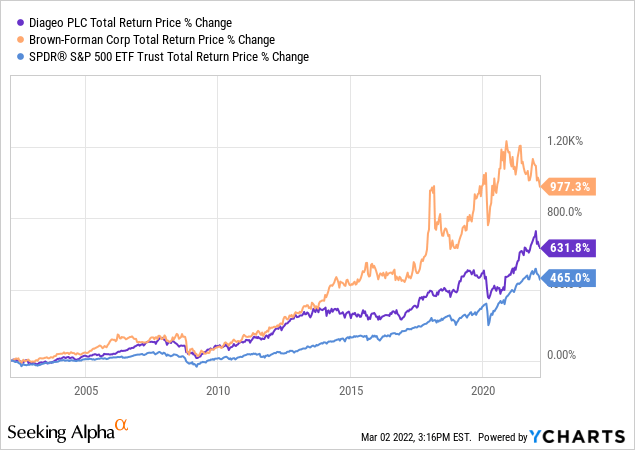 In our view, if an investor's goal is to maximize dividend income and safety, it's often a better idea to look at the real estate occupied by these "sin" companies than the sin stocks themselves. After all, it is much more assured that these companies will be able to consistently pay their rent than to consistently grow their earnings.
With that said, let's take a look at two "sin stock" REITs that offer 5%+ dividend yields and strong growth prospects.
NewLake Capital Partners (NLCP)
NLCP owns a portfolio of 29 cannabis-related properties, split roughly 90% on the cultivation side and 10% on the retail (dispensary) side.
The regulated cannabis/marijuana industry is growing extremely fast as more and more states legalize its sale for medical or recreational use: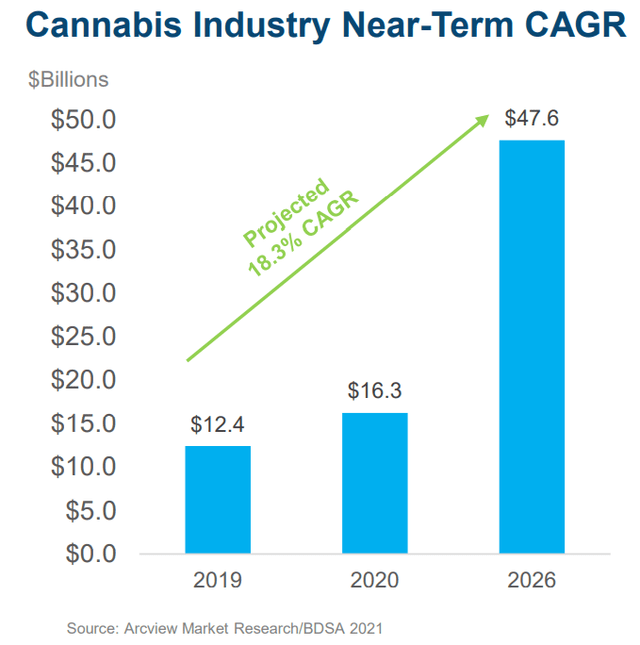 NLCP's properties are strategically clustered mostly in Northeast and Midwest states where the number of state-granted licenses is limited.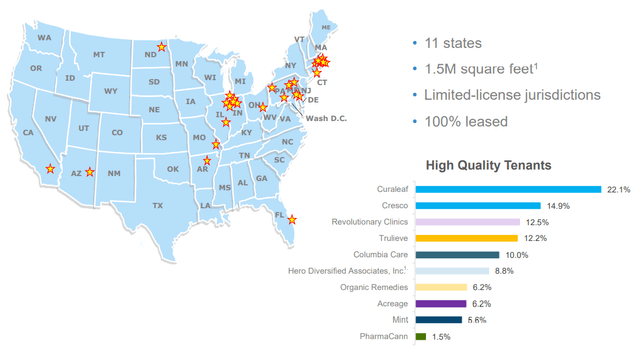 This point is huge. Some states, mainly on the West Coast, have issued a huge number of licenses for cannabis operators to grow or sell marijuana. This creates substantially more competition for the operators and compresses margins and profitability.
In contrast, in limited-license states, operators have less competition to worry about, and each real estate location can be more profitable.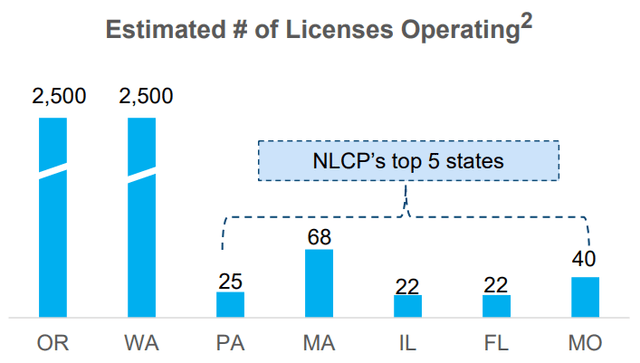 Since marijuana remains a schedule one drug at the federal level, many banks and institutional investors have refrained from committing capital to the space. This has resulted in very high cap rates and landlord-friendly lease terms for the cannabis properties that have been sold to pioneering investors via sale-leasebacks.
For instance, though NLCP has only been buying properties since 2019, the weighted average cap rate on its 29 property purchases has been 12.3%, and leases come with weighted average rent escalations of 2.5% per year. As of early 2022, NLCP's portfolio had a weighted average remaining lease term of 14.7 years.
Perhaps best of all, NLCP currently has zero debt and roughly $100 million in cash to go shopping for more high-yielding properties.
The current annualized dividend of $1.32 represents a dividend yield of ~5.4% that should continue to grow as the REIT makes more highly accretive acquisitions. The dividend was hiked by 29% in late 2021 and another 6.5% more recently.
REITs that grow at this pace typically trade at materially higher valuations. We expect 30% upside and get paid to wait.
VICI Properties (VICI)
VICI is basically the landlord of Las Vegas, owning or soon to own 11 iconic casino resorts along the famous strip. The REIT actually owns three times more regional casinos around the country than in Las Vegas, but its Vegas resorts account for ~45% of revenue.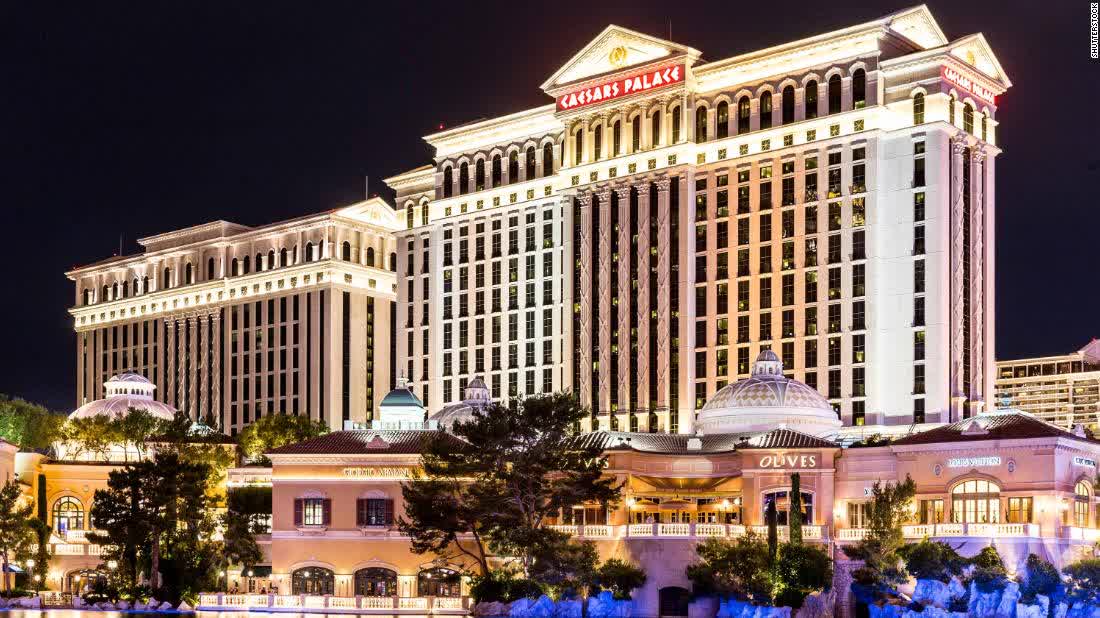 One particularly attractive element of VICI is its lease structure, which provides ample landlord protection and some organic rent growth: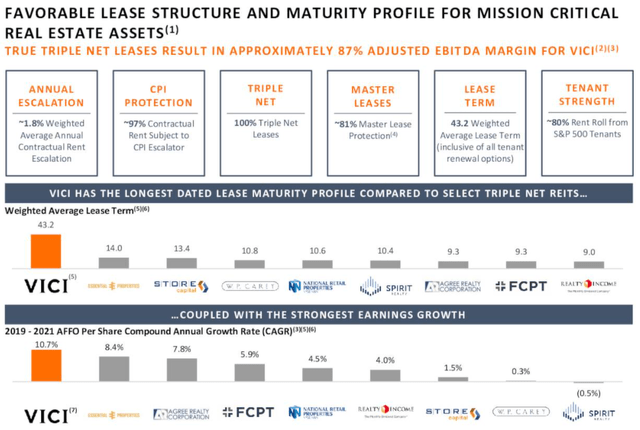 As you can see above, 97% of contractual rent is subject to CPI-based escalations, 81% of properties operate under a master lease (cross-default across multiple properties), and the weighted average remaining lease term (including all renewal option periods) comes to 43.2 years.
Last year was a transformative one for VICI, as it announced two major acquisitions that will massively grow its asset base. First, it announced the $4 billion acquisition of The Venetian in Las Vegas, which has already closed, and then it announced the $17.2 billion acquisition of MGM Growth Properties (MGP), owner of the MGM Grand and several other iconic casino properties in Las Vegas and elsewhere.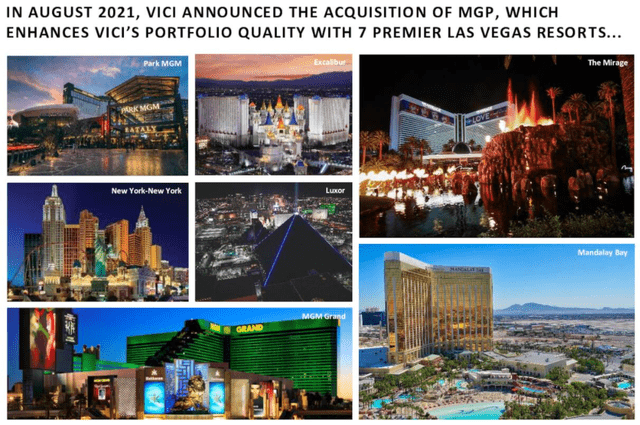 The main thing that has been holding the stock price back recently has been the need to issue huge amounts of equity to pay for these acquisitions right as the market began to turn sour on net lease REITs due to high inflation and the threat of rising interest rates.
The good news is that all equity issuance necessary for the Venetian and MGP acquisitions has been carried out and should be substantially accretive.
Moreover, upon completion of this acquisition, VICI is well-positioned to earn credit rating upgrades into the investment-grade territory and will likely be added to the S&P 500 index. Post MGP acquisition, VICI will have multi-decade remaining lease terms with its top tenants along with 1.8%+ annual rent escalators and sector-leading contractual protection against inflation. On top of that, the REIT will own some of the most iconic real estate in the nation.
One can still buy VICI at a 5.2% yield while waiting for the market to come to its senses on this blue-chip REIT. We expect 30%+ upside and there are clear catalysts already in the near term to unlock this value.
VICI also has consistently raised its dividend at a high single-digit pace over the course of its 5-year history as a public company. In 2020, it hiked the dividend 10.9%, and in 2021, it hiked by 9.1%. Such growth makes the current 5.2% dividend yield look very attractive.
Bottom Line
Cannabis and gaming real estate are two asset classes that are gradually gaining more acceptance in the mainstream investment community. As such, buying in today grants investors the benefit of accumulating shares at "sin stock" valuations and dividend yields while watching the "sin stock" stigma slowly fade.
These are exactly the kinds of opportunities we love to find at High Yield Landlord: temporarily mispriced real estate companies with high valuation upside as well as high income generation.